Uncover Creative Potential with Mind Maps for Marketing
Marketing is changing. With ever more exciting digital channels for creatives to explore, organizing and structuring your efforts can be a daunting prospect unless you're using mind maps for marketing. While ideas at your company may not be in short supply, traditional methods of note taking and information management are increasingly insufficient for transforming ideas into reality.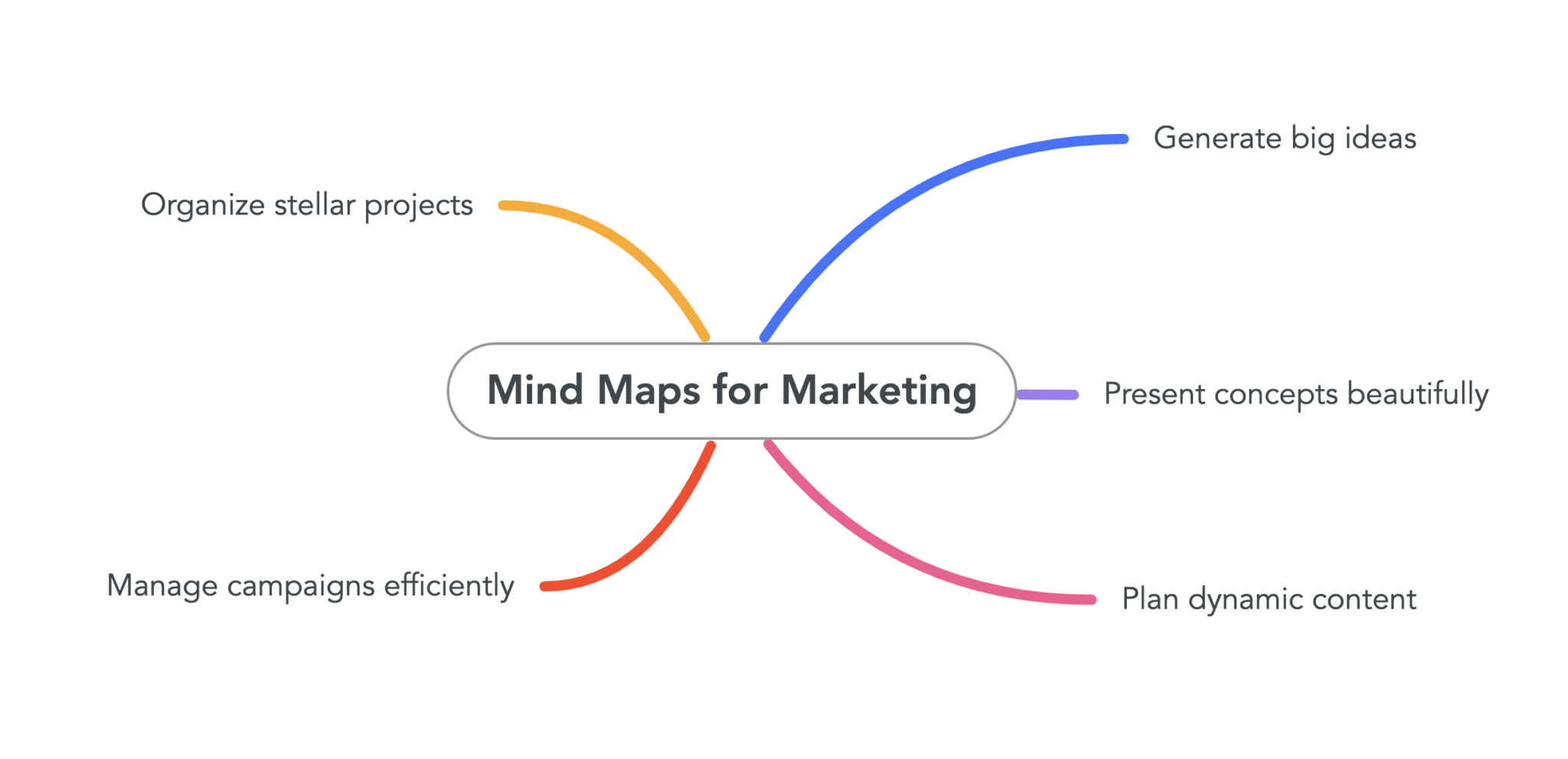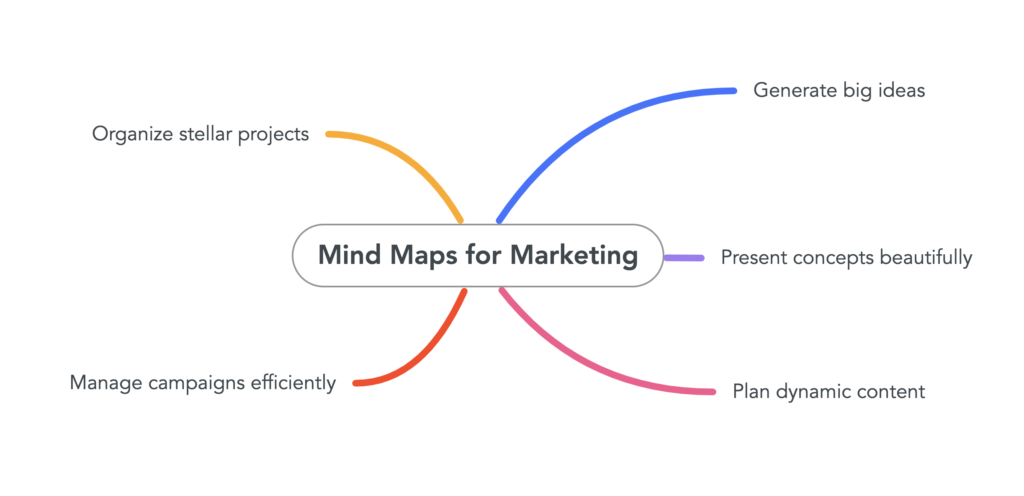 Mind mapping is fundamental to modernizing the ways in which marketing teams generate ideas, present concepts, plan content, and manage their projects or campaigns. Whether you're trying to bring structure to your ideation process or looking to unleash the creative power of your team, there's a mind map for every conceivable application.
How to Mind Map for Marketing
A mind map is a visual representation of a group of ideas, drawn around and linked to a single central topic. Start with high-level ideas and move into more detail via your mind map's branches — this helps you develop ideas quickly and channel your creative impulses into productive work.
Mind mapping allows your marketing team to:
Boost productivity by thinking visually and approaching topics with a clear structure.
Work collaboratively to achieve optimal results.
Clearly prioritize key topics and hide less-important details.
Record and organize ideas for future reference.
Let's look deeper into some potential use cases where mind maps in Marketing could make a difference to the way your team works.
Brainstorming
Even in the most streamlined marketing departments, brainstorming sessions can range from the sublime to the ridiculous. Sometimes, ideas will flow freely, while in other cases, it is difficult to get the ball rolling at all. In either scenario, mind mapping can greatly enhance the process of getting your team's ideas onto paper. Why not try the following techniques to improve your team's brainstorming experience?
Define topics you want to discuss in advance to keep brainstorming on-track.
Invite team members to contribute ideas to the mind map before the meeting begins.
Use the core mind map topics from smaller-group meetings to open the discussion to a wider audience.
By employing a more methodical approach to brainstorming meetings, you'll notice not only a sharp increase in the quality of the results generated during your talks but also a positive effect on the enjoyment and enthusiasm levels of your team.
Meeting Management
It isn't just brainstorming sessions that can sometimes go awry: meetings on any topic can be rendered pointless by a poorly-defined agenda, a lack of meeting notes, or imperfect time management.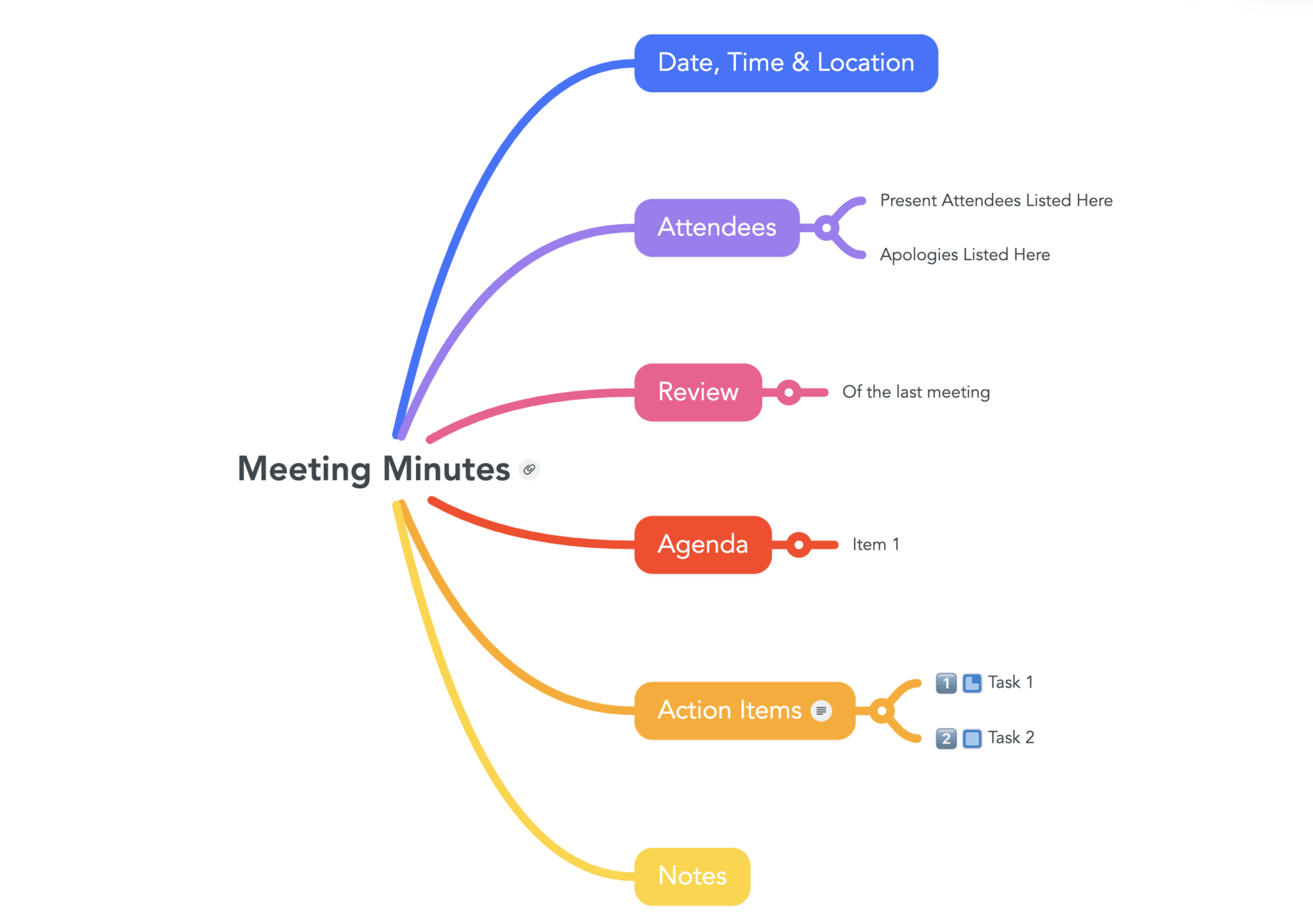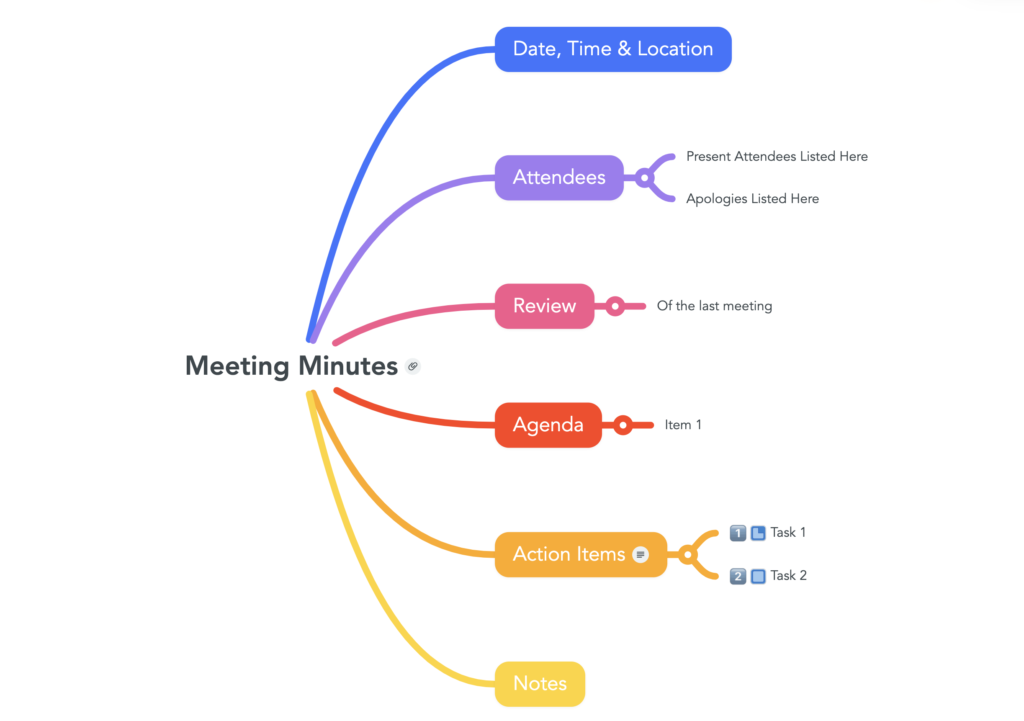 Mind mapping can counteract the key causes of wasted meeting time, acting as a center point to make meetings as productive as possible. Here's how to make sure you never miss a minute again:
Use mind maps to create collaborative meeting agendas, giving all participants the time and resources to prepare properly.
Keep your mind map at hand to maintain an at-a-glance view of focus areas.
Share and store your team's meeting mind map as a knowledge base for future meetings or to help absentees catch up.
Client Presentations
It isn't just the creators of mind maps who can benefit from enhanced comprehension, improved information retention, and the logical structuring of ideas. By using mind maps for customer presentations as an alternative to dry, bullet-pointed slideshows, you can impress potential clients and stakeholders while making sure your most important points aren't forgotten.
Ready to use mind mapping to make an unforgettable first impression? Let's look at some top tips:
Use your map's hierarchical structure to show the development of ideas over time.
Embed images and video content into your maps to add an extra dimension to your presentation.
Print out your maps as handouts, or alternatively provide a sharing link for participants at the end of the presentation.
Project Management
Your marketing team's projects aren't just static proposals on a sheet of paper: they're living, breathing concepts that develop, grow and blossom as you progress. Mind mapping your way through the project development process is a sophisticated way of ensuring that information is kept up to date and at a single point of truth. From the development of initial ideas, through requirement planning to the maintenance of a project knowledge base, you'll benefit from the organizational and creative benefits mind mapping can bring. Why not try some new techniques to bring even more value to your projects?
Create a master project mind map that links out to the individual parts of the process and ensures information remains central.
Link to or attach reference documents to your map to serve as a directory for project resources.
Restrict access to your maps to a need-to-know basis to maintain privacy and confidentiality at various points in the project journey.
Content Planning
Content is where creatives can shine. Whether your marketing team is creating insightful blog posts, the next viral video, or boosting its followers on Instagram, the careful and structured planning of content is key to ensuring optimal reach and impact for your materials.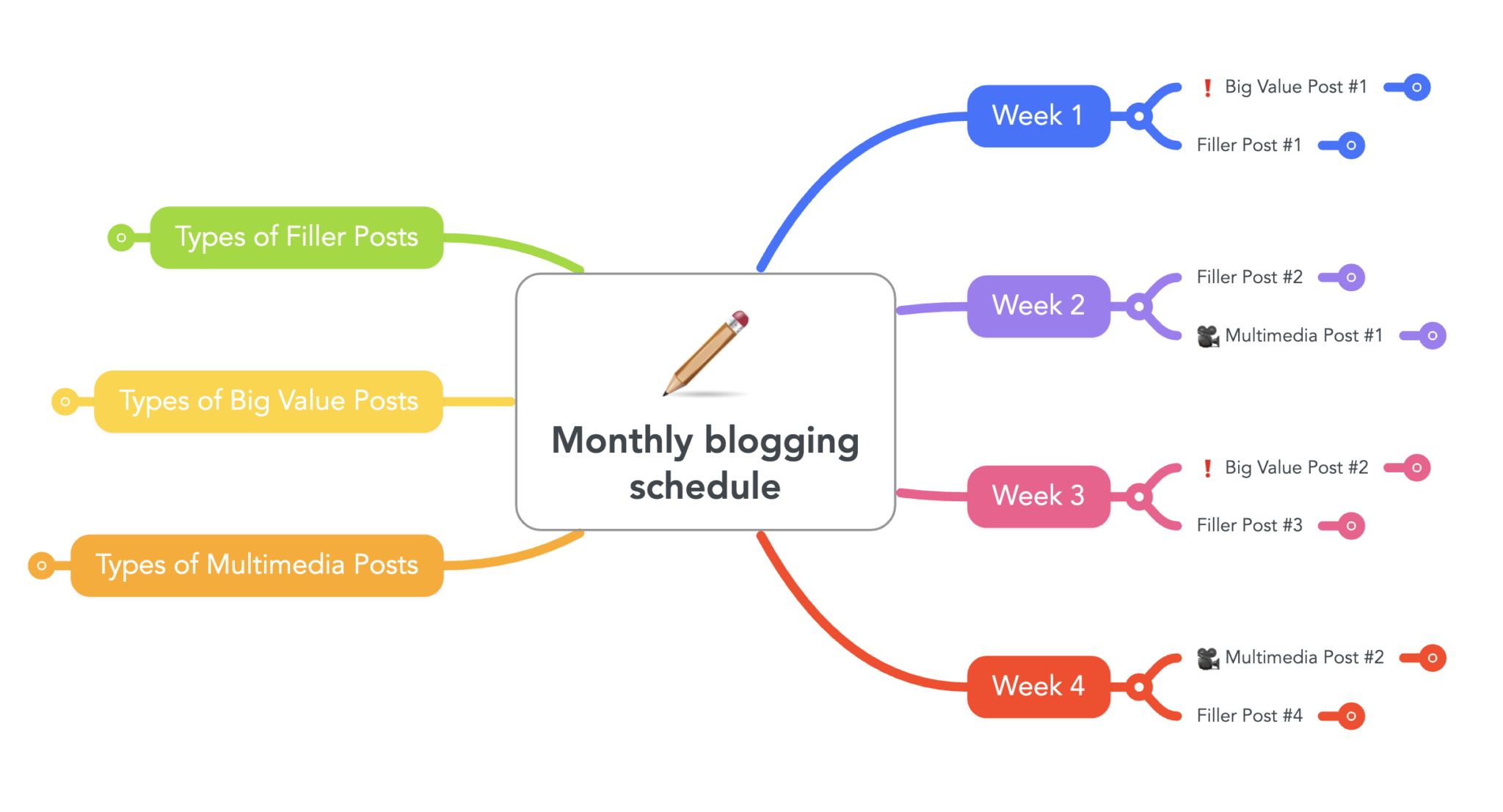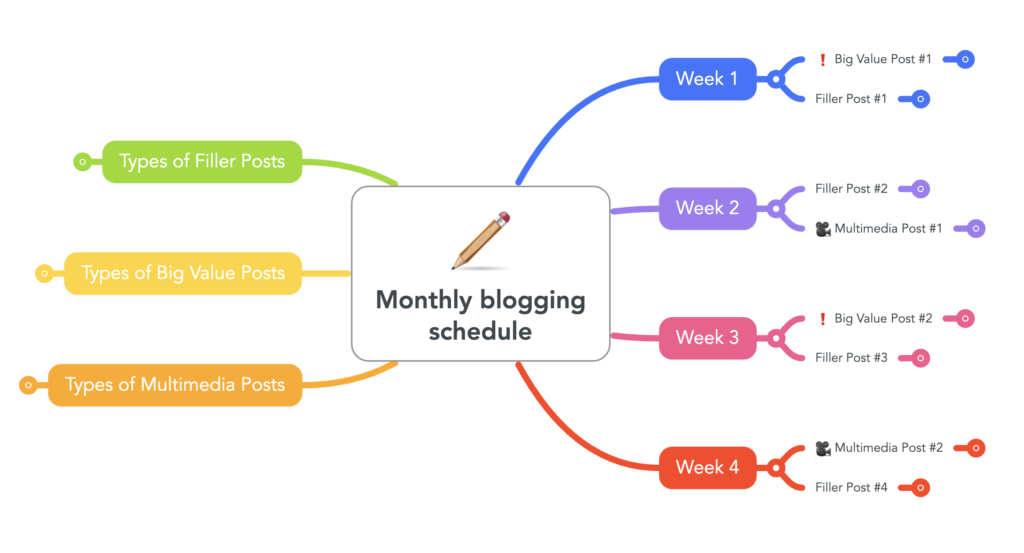 Not only does mind mapping aid with organizing your publishing schedule, but it can also help your team succeed in their daily work. Mind maps are fantastic tools for bloggers to outline articles. And, they can be useful designers when it comes to visualizing ideas.
You can help your creatives realize their potential with these top tips:
Use mind maps to brainstorm monthly content plans for text, video and social content.
Encourage team members to contribute to ideas maps on an ad hoc basis — who knows when inspiration will strike?
Maintain an archive of published content organized by theme or medium.
Provide feedback and voting options for specific content ideas.
Mind Maps for Marketing Plans
Your marketing plan defines so much about the way your team will work: what topics you will be focusing on, which tools you require, and the people you need to hire. That's why it's important to ensure your marketing plan is clear, concise and easy to understand for your whole team.
Despite this, your plans must also contain all the details needed to make your work a success.
Fortunately, mind maps offer you the best of both worlds. They allow you to store and structure vast amounts of information while keeping the "big picture" accessible at a glance. Try a few simple techniques to get more out of your next quarter's marketing plan:
Develop org charts that depict hierarchies, team structure and responsibilities.
Create a mind map with links to essential documents for the planned period, such as budgets, KPIs and more.
Regularly present your mind maps to your team to make sure everyone stays on the same page.
Other Mind Map Examples and Best Practices
Once you start using mind maps for marketing, you'll soon find that the options for your team are endless. Here are a few predefined templates that can provide inspiration and guidance for your team's first steps with mind mapping:
Marketing Team Org Chart
Keep your entire company in the loop with a marketing team org chart mind map. Be sure to include names, titles, and contact information. This mind map is particularly helpful when onboarding new employees.
Marketing Persona
Developing a marketing persona allows you to create key messaging for a target consumer. To start, create a personality that helps you visualize who you are marketing to and how that person will use your product or service.
Marketing Campaign Plan
Keep the plans for your next marketing campaign ordered and in one place. Map out what you want to accomplish with the campaign, the steps you will take to reach your goals, and any extra resources you'll need along the way.
Design Project Brief
Improve collaboration between clients and designers by completing this template that clearly shows the roles and responsibilities on both sides of a design project. Speed up completion times and avoid breakdowns in communication that cost you time and money.
Monthly Blogging Schedule
Combine your brainstorming sessions with your monthly content plan by adopting this monthly blogging schedule for your content writers. Easily track progress and comment or vote on potential ideas.