Excel at Project Planning with Mind Maps
In both personal and professional spaces, project planning is often the key to success. Planning a big event, organizing a party, or creating and implementing actionable steps to achieve a goal all benefit from project planning with mind maps. With mind maps, you can streamline and improve every project, from simple to complex.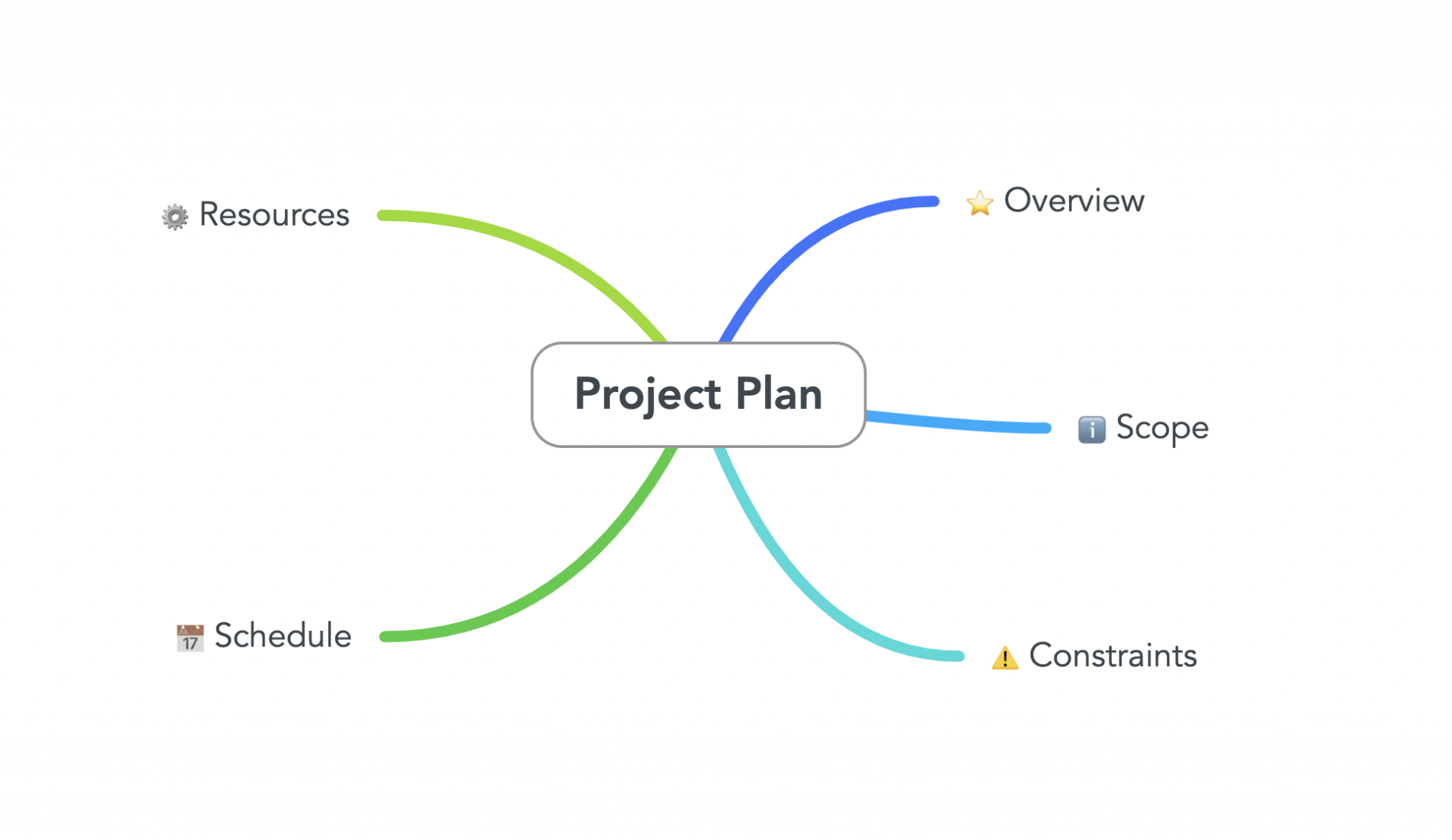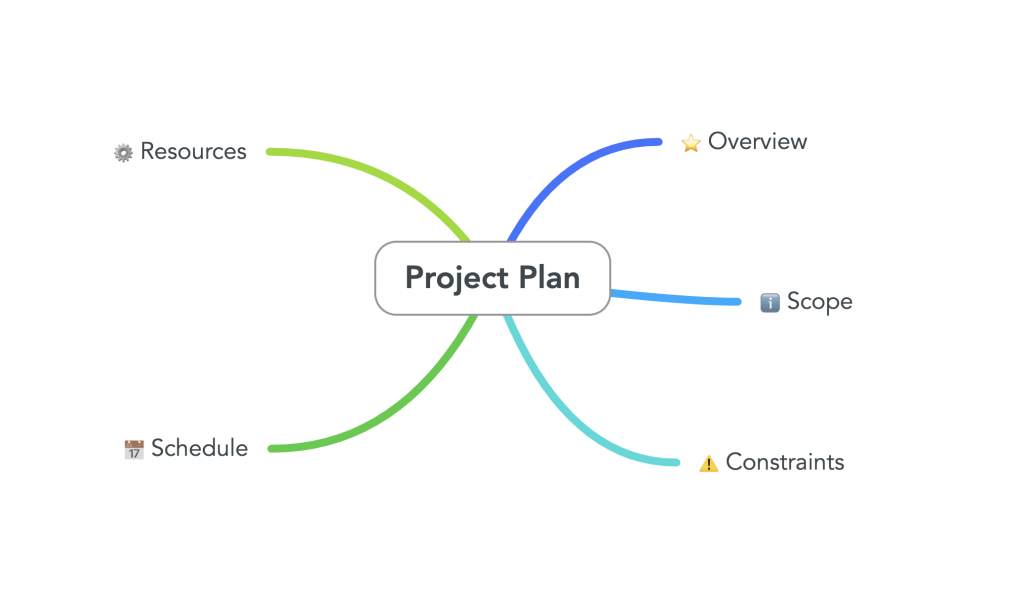 Getting Started: Project Planning
Project planning can often be seen as a rigid process intended to create one concrete masterplan. However, the more creativity is allowed into this process the better.
One of the best ways to introduce this creativity and generate multiple variations on a project plan is to use a mind map. This way, you'll have a free flow of ideas, a visually represented structure of them and an overview of all the information related to the project.
Using online mind mapping software, you can even collaborate with colleagues to produce synergistic plans. Here are a few ideas for project planning with mind maps. 
Brainstorm
The goal of a brainstorming session while project planning is to generate as many ideas as possible. In this case, it truly is quantity over quality. Even suboptimal ideas are worth adding to your mind map because they may spark new, creative ideas from you or from someone else.
Cleaning up your mind map later to get rid of clutter is easy enough to do. So don't stop yourself, and don't stop others from throwing even ridiculous ideas on the mind map. 
Start with your main topic is the center and add 3 to 6 first-level topics (branches) of significant keywords around it. Let those keywords serve as jumping-off points for you and your team. From there, explore the twists and turns of those ideas by adding child topics. Don't stop until you've completely exhausted your ideas!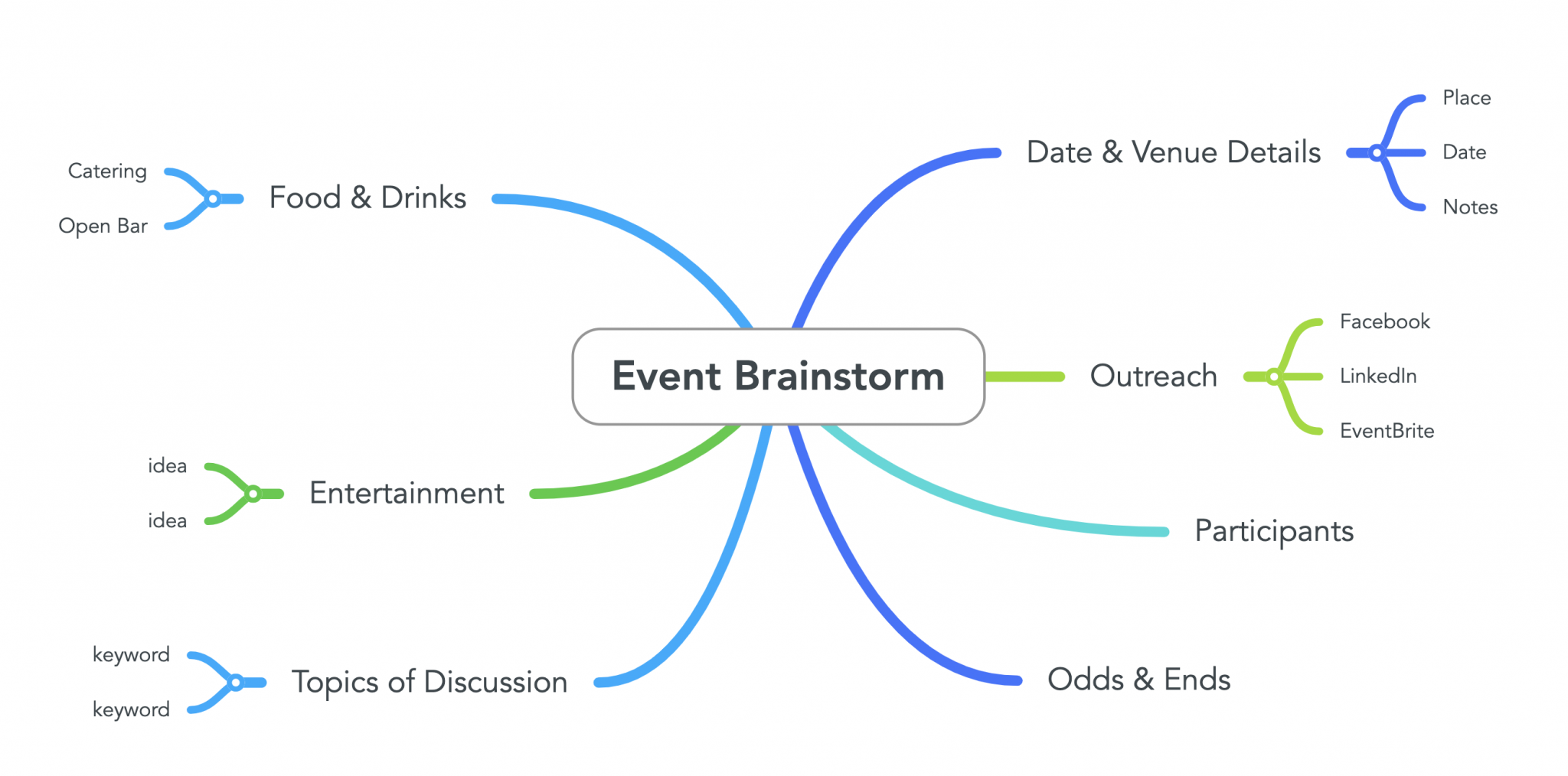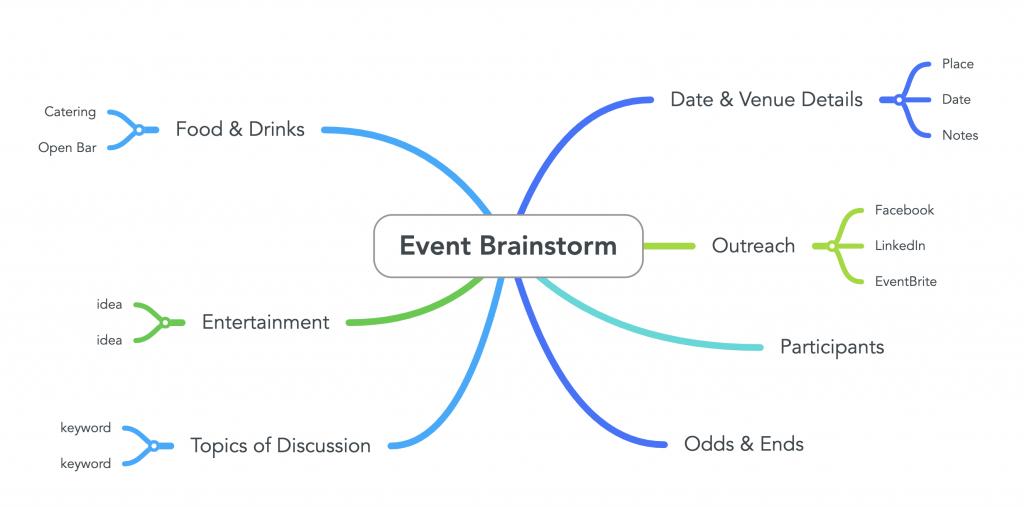 Outline
While writing the final project plan will most likely be done in a text document, mind maps provide a priceless visual element to outlining. Now that you have plenty of ideas, it's time to sift through them and decide which ones to keep. Delete the unnecessary and rearrange the useful ones into a logical structure.
Once you've narrowed down your ideas, outline the chapters and contents of your project plan directly in your mind map. They might be named things like purpose, desired results, and roles and responsibilities. Add details to each of these topics in the form of child topics.
To avoid clutter, stick to individual keywords and short phrases. Add longer explanations in the form of notes. If you're working online, you can also add links, comments, images, and files so that you have everything in one place, ready to go when you do start writing your project plan.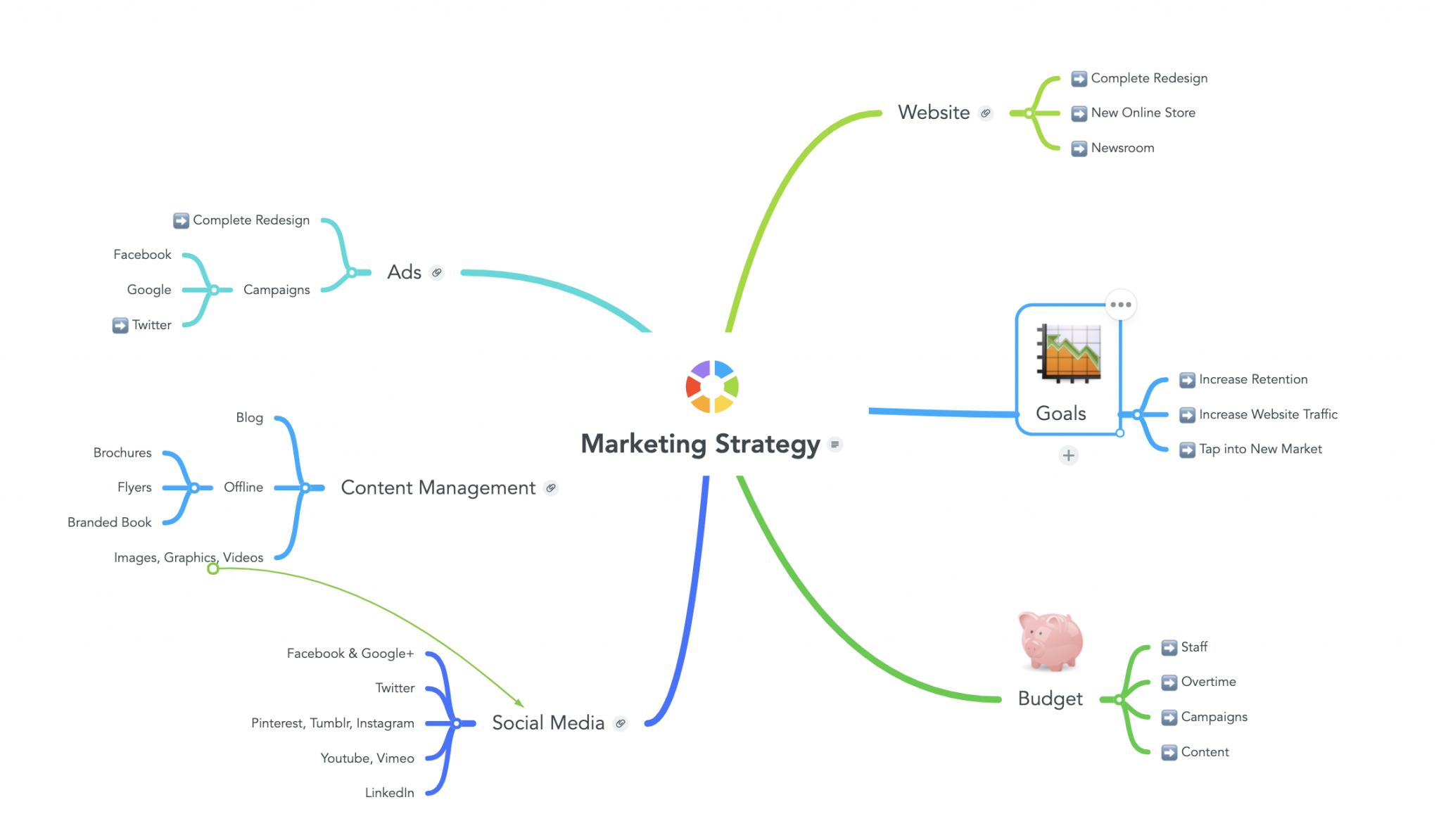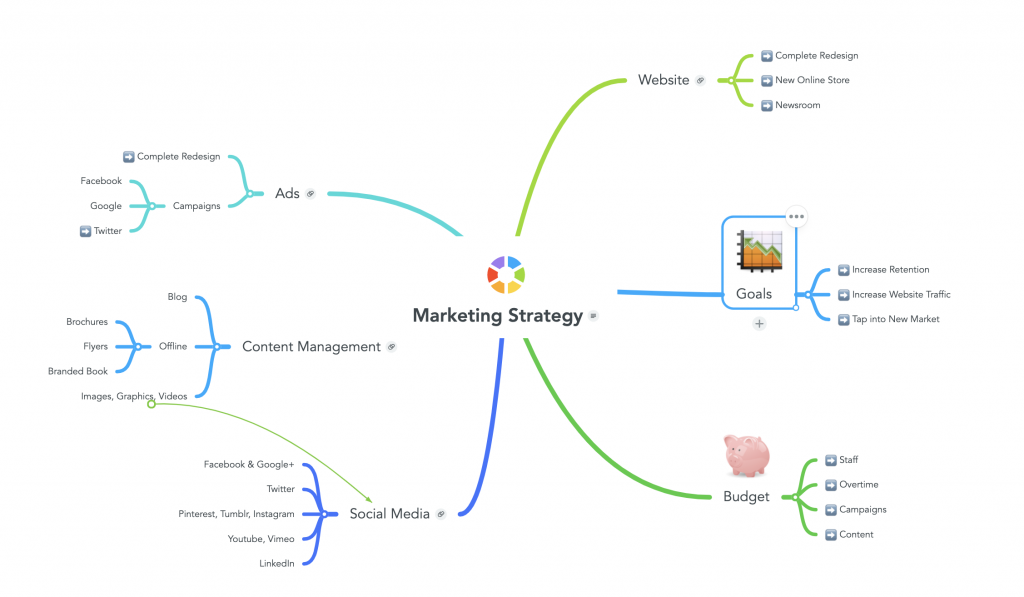 List the Stakeholders
To help determine the scope of your project, define your stakeholders — anyone who might have an interest in the project. By doing this, you will better be able to decide when to involve certain people in decisions both before the project starts and while it continues.
You can either create this list as part of your outline mind map or in a completely separate mind map, using the template below. Add child-topics representing the various departments and groups involved in the project: team members, end-users, upper management, suppliers, etc.
Further divide these categories and groups until you arrive at the names of individuals. Be sure to add their contact information! Share your mind map with co-workers who may know of other important parties to add to the list. Update the list throughout the project and save it for reuse on future projects.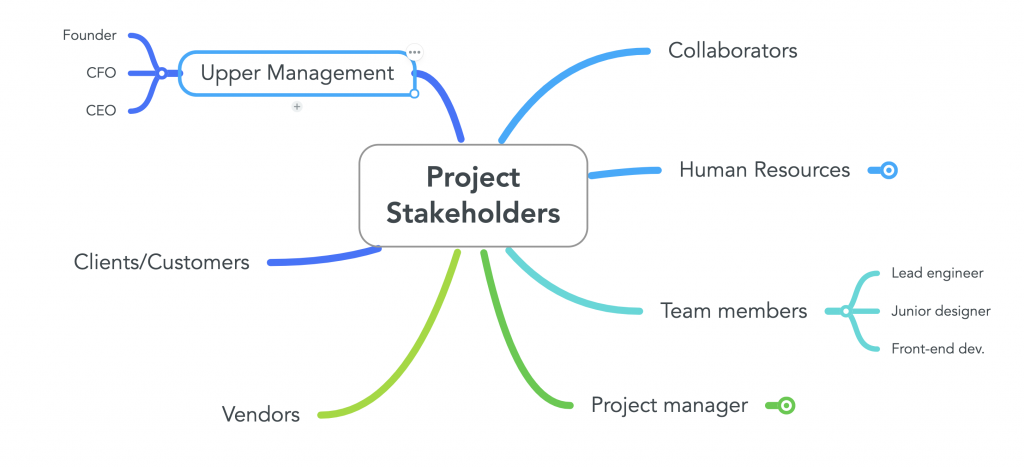 Perform a Cost-Benefit Analysis
At some point during your project planning, you may want or be asked to provide evidence that the project is worth undertaking. In this case, a cost-benefit analysis is essential. Again, this can be created in a separate mind map and used as a template for future projects.
To get started, create a branch for your project objectives. Create another branch for the estimated resources required to perform the project. Then create a third branch for anticipated benefits.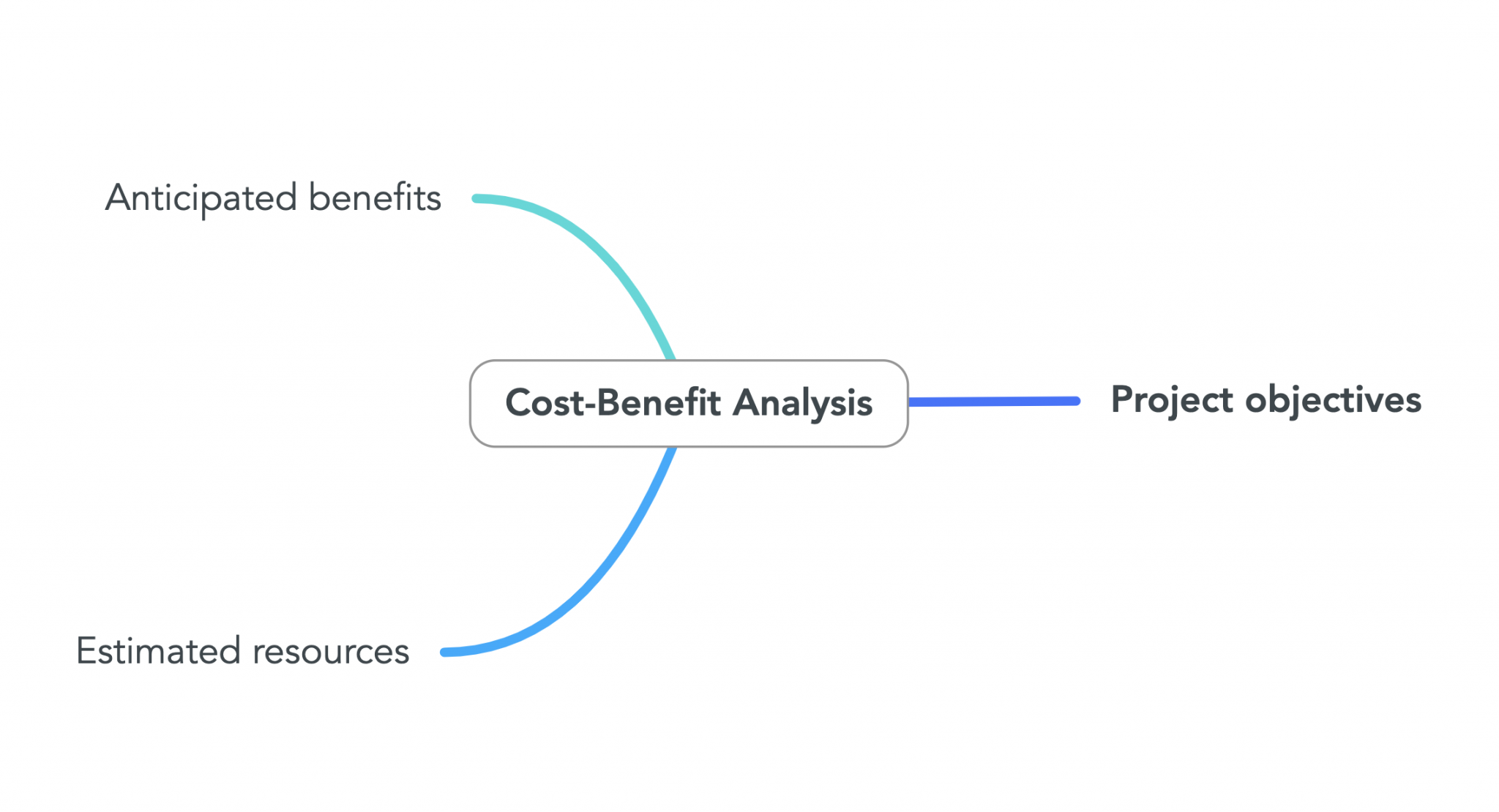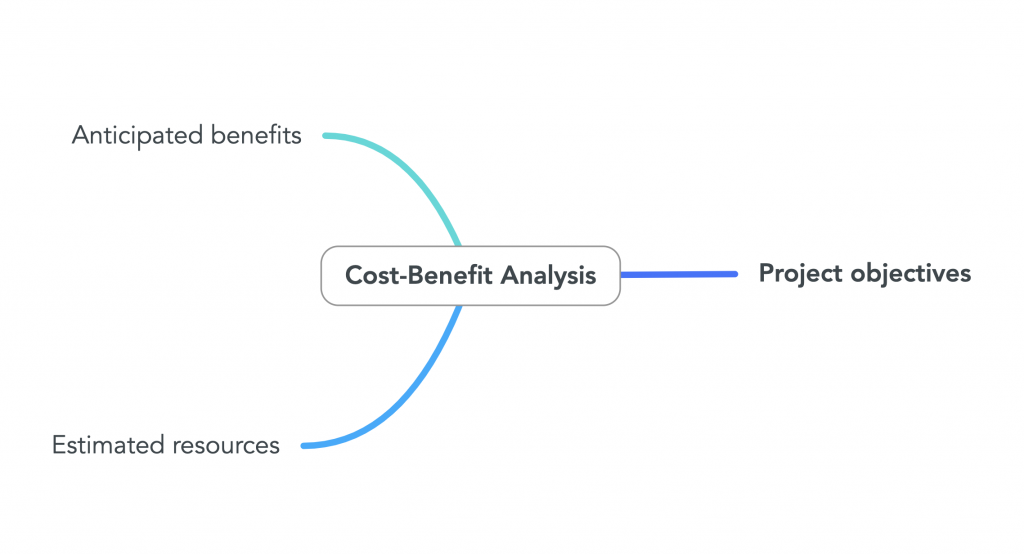 Calculate the project's net present value (estimated benefits minus costs in monetary terms) and use the result to decide whether you should execute the project.
Present
Any of the mind maps related to your project — outline, stakeholders, cost-benefit analysis — can be used to present. If you're doing this online, it will save you time as you don't have to migrate the content to another program. It will also give your audience a refreshing break from the typical presentation slides. 
To prepare your mind map for presentation, add emphasis to topics by choosing appropriate styles and icons. Make sure that the slides you set up are in the order you want and that the slideshow functions in the way that best aids your presentation style. After you've presented, you can easily share the mind map with the audience so that they can review and even modify it themselves for easy project approval or adjustment.
————
Try any or all of these mind map suggestions when planning your next project. And be sure to save them as templates so that you can reuse them again and again!